Disclosure: I sometimes earn products or commissions from affiliate links or partnerships on my blog. I only recommend products and services I trust to serve you. Learn more.
Sitting down to write lately has been an exercise in focus. There are so many ideas I have swirling in my head at the moment ranging from unconventional homebuilding to our off-grid systems, but none of them have really come to the fore. Why? Partly because there are more ideas in my head than hours in a day, but also because this odd little question keeps popping into the back of my mind.
I can't turn it off. It refuses to go away.
You see, a while back I saw this amusing comment on the Pinterest pin for this post:
"How does one become an 'accidental hippy'? Do you have to trip over a marijuana plant or something?"
Okay, so "a while back" is actually a year or so ago. That's how long I've been chuckling internally while also contemplating what the phrase actually means to me. I mean, how does one become an "accidental hippy"? Are you an "accidental hippy" too? Is it "hippy" or "hippie" in the singular? Is any of this actually real? Are hotdogs technically a sandwich????
Let's explore.
Here's the backstory…
Before you can chop down trees and build an off-grid home, you have to start somewhere. Where exactly?
Travel back in time with me. The year was 1991. I was a precocious first grader and my favorite hobby was following my mom around the house and turning off the lights to save energy. I loved planting carrots with my Papaw. My favorite cartoon was Captain Planet and I was determined to "take pollution down to zero". (Shoutout to my fellow 80's/90's kids. We're the Planeteers. You can be one too. 'Cause saving our planet is the thing to do.)
The rest was pretty much your typical plastic toy 90's childhood. I had those plastic jelly sandals, coveted my cheap plastic fast food toys, and remember wondering why the plastic wrapper was practically impossible to remove from my new Paula Cole CD. Really.
In spite of that, something from that early indoctrination simmered. Add to that my favorite teacher refusing to eat at her favorite pizza place until they stopped using styrofoam, AND the fact that my birthday is only days apart from Earth Day, AND perhaps that I got sent to summer camp at the nature center. The part of me that my mom calls an "earth mother" wouldn't truly manifest until much later, but she was in there from the beginning.
Here's where my "earth mother" side started coming out.
My husband Mark and I got married back in 2006 as mere 21-year-old babies. We were still in college and money was tight but we were resourceful and scrappy enough to figure things out. Pinterest wasn't a thing yet, but I was already pretty adept at scouring books and the internet for tips to save money on food and around the home.
My typical discoveries usually went, "Oh hey, vinegar can be used to clean the windows and mirrors. I don't have to buy extra stuff AND it's better for the Earth? Cool ok." Or "Whoa-ho if I cut this old shirt into rags I don't buy paper towels? Score."
Frugality makes you find creative solutions, and most often the best ones are also eco-friendly.
At some point, you start realizing that the things that save you the most money in your everyday life are often the things that are better for your body and for the planet. For me, it became a game of skill-building too. I wanted to see what I could learn to make or do myself just to see if I could! It wasn't that I was on a mission to save the planet; it was more like I was leveling up. I'm talking things like:
Learning to cook my own from scratch pizza vs. buying those crappy box kits
Making simple cleaners vs. buying scented garbage
Using a reel mower to cut our grass vs. using a gas mower
Building our own home solutions for cheap or free out of reclaimed materials rather than going out and buying something
Over time, I upped my game even more. Eventually, I started:
Making my own kitchen staples, like butter (that was the first time my mom called me an "earth mother", for the record)
Cloth diapering (my family told me I wouldn't last four weeks and we made it through potty training. Ha!)
Babywearing (boy oh boy was that baby carrier a life saver early on)
Growing our own fruits and veggies and doing most of our cooking from scratch
And of course, the final boss level was when my husband and I built our own off-grid cordwood home by hand.
Why "Accidental Hippies"
Back in 2014, my mom kept telling me to start a blog. All of her work friends kept asking about "all that hippy stuff" we were doing and she thought I should write about it. So I did! But what to call it?
She kept saying, "you guys are just a bunch of accidental hippies," whenever I'd talk about our adventures in sustainability. "You over there churning butter like Ma Ingalls??"
Well, yeah. But I mean, she probably didn't use a Cuisinart.
But that name kept popping up, so I used it. And as we've evolved and learned throughout our building and off-grid living adventures, I've come to realize that being an accidental hippy isn't about "tripping over a marijuana plant", nor is it the hippy counterculture of the 1960s. It's much more than that now. It's beyond politics or tropes.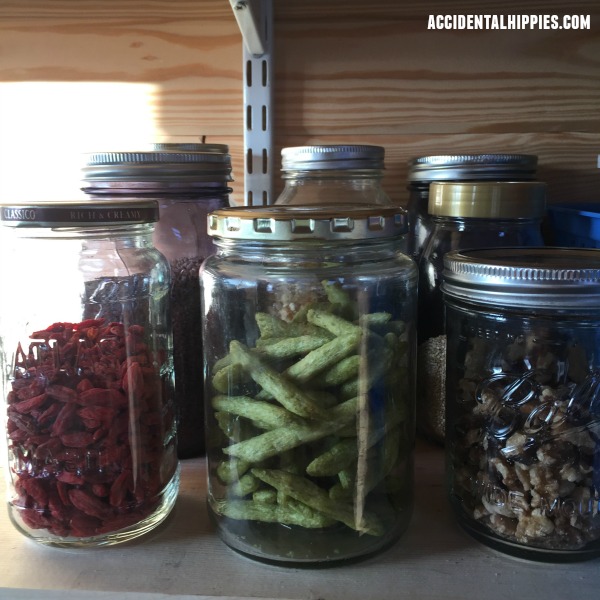 Related: What "homesteading" is really all about
Here's what it really means…
The most basic definition is that we're totally normal people who went from living a standard, wasteful, disposable lifestyle to making increasingly sustainable choices.
Accidental Hippies believe:
That the best ways to do things are usually the simplest ways.
That saving money is often a gateway to saving the earth.
That anyone can make some sustainable choices.
In the philosophy of "waste not, want not".
In the philosophy of "use it up, wear it out, make it do, or do without".
That conventional and holistic approaches can (and should) coexist.
That working WITH nature instead of against it should be the normal thing to do.
That we all live on this planet and taking care of it shouldn't be a fringe thing. It's for everyone!
We're all on a journey to learn more and do better for ourselves, for each other, and for our planet.
That none of us is perfect, but that our efforts make all the difference.
You don't have to drive a vegetable oil powered car or smell like patchouli to be an "accidental hippy." Unless that's what you want, of course. You can just be "normal"…whatever that means to you.
Part of that has been writing this blog and creating resources to help others create a more sustainable life. Another part has simply been living by example and engaging with people who get curious (like people at the grocery store who ask me about my reusable produce bags or bringing water from my Berkey filter in my old to-go mug).
Related: 13 totally normal items to help you be more zero waste
It also means not being complacent.
I think it's really easy for all of us sitting around on the internet to humble brag about things like those aforementioned produce bags and Berkey filter. It's easy to share a nice, curated photo of our plastic-free showers with natural bar soaps and bamboo scrub brushes and think, "Look how good I'm doing at this sustainability thing!" without taking the time to examine our lives more closely.
My goal in sharing those kinds of products with you is to give you ideas and resources. You ultimately make your own choices, and you should. We should all own the agency that we have to make changes where we are and to tackle systemic problems as we are able. To co-opt a phrase I often see in zero-waste groups, change doesn't happen from one person "doing sustainability" perfectly, but all of us doing it imperfectly.
That's our real goal here. To show you what life CAN be like and how we choose to live it. It's not to boast or be the all-knowing sages. The truth is, we don't know everything about this off-grid life yet. We're still building our skills. I hope you are too.
We bought 16 acres of raw land and built an off-grid cordwood house from scratch! You can learn more about it here.
Learn more about this "accidental hippy" lifestyle with us by subscribing to our email newsletter below.
If building your own sustainable homestead is on your bucket list like it was for us, we'll send you a FREE PDF guide to help you get started with the basics of planning your build.
If you haven't already, go follow us on Facebook, Instagram, and Pinterest for more inspiration that doesn't necessarily make it to the blog. Thanks for reading!