Disclosure: I sometimes earn products or commissions from affiliate links or partnerships on my blog. I only recommend products and services I trust to serve you. Learn more.
There's a lot of fuss about single-use plastic straws right now.
"They're decimating ocean life!" "They're ruining the environment!" "Why are we focusing on straws when there are other worse pollutants?" "But wait! Some people with disabilities need them!"
I'm with ya.
But no matter what side of the argument you come down on, one thing is certain:
We all have a responsibility to reduce waste.
We've managed to reduce our trash output to roughly half a bag per week, largely because we use the products in this post. Luckily, none of these things are outright weird (well, except for maybe the last one according to some folks, but that didn't stop us).
It's actually really easy. Here's how you can get started.
13 Easy Reusable Items to Help You Reduce Plastic Waste

Okay, I know I said "besides straws" but obviously if you want to get some reusable straws to take along with you to avoid single-use plastic straws at restaurants you should TOTALLY do that. This nifty set includes both stainless steel AND flexible silicone options, as well as cleaning brushes and a carry pouch.
Shopping Bags
1. Regular Shopping Bags
This seems so obvious for so many reasons, yet I am astounded at how many people aren't on board with this yet.
Budget Version: Make your own bags! Use old t-shirts, scrap fabric, you name it! You can make a sewn version, like the ones here. OR you can make a no-sew version like this one.
Basic Version: If you prefer natural materials, try these natural canvas bags made from cotton. Or check out these shopping totes made from recycled plastic bottles!
A little bit more: These collapsable box totes have sturdy bottoms and sides, are easily carried with straps OR handles, and fold flat for storage. Use them for your weekly grocery shopping or to take items to parties, the beach, picnics, laundry, and more. You never know when a tote might come in handy!
2. Reusable PRODUCE Bags
I get into so many more awkward conversations with folks at the grocery store now that I'm using these. "What are those?" "Where'd ya get those?" "I've never seen those before!" HA HA HA YES. I TOO ENJOY THESE BAGS THAT I GOT ON AMAZON. </awkward>
I use these bags from Earthwise. They're awesome because they come in a variety of sizes to accommodate different food items, are relatively see-through for the cashiers to check PLU numbers.
Reusable Cups
Lots of places are cool with customers bringing their own cups! Starbucks gives customers 10 cents off per cup of any drink, and you can bring in ANY reusable cup. My favorite local coffee shop encourages people to do the same. Other restaurants will if you just ASK.
3. Cups for Adults
As opposed to the littles, of course…I'll get to them.
My husband has a YETI tumbler that he LOVES. Drinks keep their temperature FOR. EV. ER.
I personally love my Contigo because it's totally sealed and clumsy me can't spill it.
For reference, here I am starting another morning of solo cordwood building with my Contigo full of coffee in hand back in 2016. It was a few years old at that point and it's still going strong, even though I may or may not have dropped it off of the scaffolding more than once.
4. Cups for the Kiddos
My little guy has been using this stainless steel tumbler for close to three years now. Drop it. Throw it. Hide it in his toy box. He can't kill it. The baristas are more than happy to pour some milk right in there for him. The good ones even ask if it needs to be rinsed out first!
5. Reusable Baby Food Pouch
If you're in the habit of buying those little food pouches for your child, you'll want to take a look at this awesome reusable option. I've used this exact pouch for four years now and STILL use it for stuff like applesauce, yogurt, or pudding. It's never ripped or torn.
Single-use pouches are convenient and all, but they aren't recyclable and have been known to harbor mold and other unknowns.
Kitchen Goodies
6. Glass containers
I've started using glass storage containers for everything as we phase out the plastic. I haven't exactly gone out of my way to get rid of perfectly decent containers just for being plastic (because that is also wasteful, to be honest). Instead of getting more plastic as old containers wear out I've started using glass.
I got this Pyrex set for Christmas a few years ago. They're super functional and the lids keep nicely. I left a glob of spaghetti sauce on one of those green lids earlier and it washed right off with soap and baking soda. Sorcery.
BUDGET OPTION: I wash and reuse the jars that my jellies, pickles, and pasta sauces come in! Here are some of them (along with actual mason jars) on our open kitchen shelves.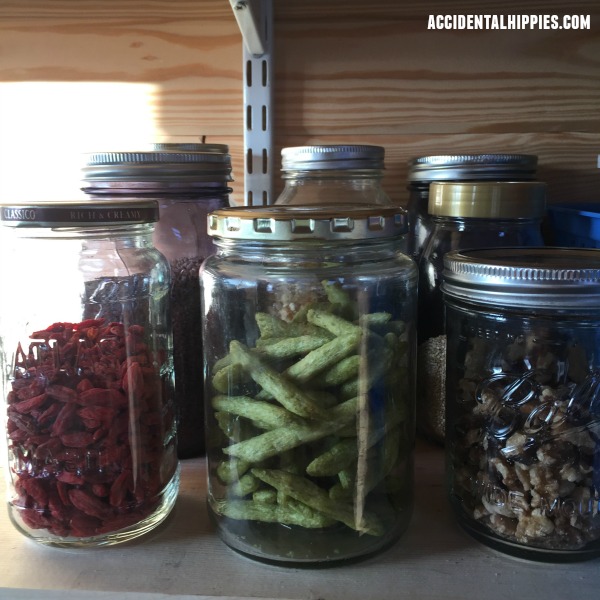 7. Stainless steel containers
Glass has the burden of being heavy and breakable, which makes them tough to tote along to places like the deli, meat, and seafood counters. Stainless steel containers are lightweight and virtually unbreakable. The good ones will keep your food fresher for longer while you're shopping or when you take your lunch in them.
Want to go the extra mile? Bring these to restaurants instead of using their styrofoam takeout boxes!
8. Reusable Sandwich Bags
If the thought of bringing big containers to a restaurant or grocery store freaks you out, you can opt for reusable "Ziploc" style bags instead. These flexible silicone bags have a strong seal, are free from BPA and phthalates, and are many times stronger than regular sandwich bags.
9-10. Percolator and French Press
These days, most people who brew their own coffee at home have either a regular drip brew machine or a Keurig. Drip brew machines tend to have lots of plastic innards, harbor mold/scale over time even with regular cleaning, and not last a super long time. Then you'll end up throwing out a hulking plastic machine.
Keurigs are ultra wasteful if you use the single-use K-Cups instead of a reusable K-Cup.
Not to mention most home drip brews are WEAK.
Want a tastier, more sustainable way to make coffee? Try a French press or a percolator.
We have both and enjoy them for different reasons. We make our daily pot of coffee with a percolator and have used the same one for the last ten years. We take it with us when we go camping and it's easily the best way for us to make our daily coffee now that we live off the grid.
Not only does it last, it brews a strong cup of coffee. The kind of coffee that will slap you in the face. Get a percolator.
Or if percolators aren't for you, I highly recommend a French press. The bonus with a French press is you can easily brew loose leaf bulk tea (which is another great way to avoid extra plastic in your life). It's also way easier than a percolator to just brew a cup for one.
Cloth for the Home
Okay, so I have to be honest for a sec. The entire concept of the unpaper towel is adorable but totally silly. You know what paper towels replaced? ACTUAL TOWELS.
Kitchen towels, people. Use kitchen towels. This is not a weird, new thing invented by zero waste people. Here are some options for you to reduce your paper towel waste AND the plastic wrapping waste that comes with it.
11. Kitchen Towels and Cleaning Rags
I will probably never need to buy kitchen towels again in my lifetime. This is mostly because I'm convinced that gifting others with towels is my mother-in-law's love language. I have a lot of towels.
NOTE: I will never recommend a microfiber towel. Plastic microfibers are a huge source of pollution in our waterways. They are ingested by wildlife which is then ingested by you. They are not easily filtered from your drinking water. Do not buy microfiber towels.
If I ever need to get myself more towels, I'd go for some organic cotton kitchen towels like these.

While you're at it, get some dish rags too for handwashing your dishes.
You can buy them locally too, sometimes for cheaper. They sell them basically everywhere (grocery, big box, home goods, dollar store, you name it).
And if you're REALLY on a budget, cut up some old shirts or scrap fabric and call it a day. I cut up some old flannel shirts and t-shirts to use for cleaning rags, face wipes, baby wipes, you name it.
12. Cloth Napkins
I actually got my cloth napkins as a gift about twelve years ago, which at the time I thought was a really weird, fancy gift to give a broke college kid. Now I think it's probably one of the greatest gifts I've ever gotten! We use them every day! It feels wasteful to go other places and use paper napkins or paper towels instead.
If I was going to buy more I'd probably get these 100% cotton napkins (again, avoid microfibers).
13. Cloth Diapers
This is our little dude back when he was a teeny tiny thing! As of this article, he is a few days away from being five years old. Wow, how time flies!
We used cloth diapers with our son from about 3 weeks old all the way through potty training. Before we started documenting our cordwood home build, cloth diapering was a HUGE passion topic of mine to write about.
If you have little ones, cloth diapering is SO much easier than you probably think it is, and I really recommend you take the time to check it out before you write it off. Read more about it in these posts:
Beginners Guide to Prefold Cloth Diapers – OUR FAVORITE WAY TO CLOTH DIAPER!!!
Easy Cloth Diaper Changing Station
Nighttime Cloth Diapers (without leaks!)
Going Out With Cloth Diapers (it can actually be easier than disposables)
I'd also mentioned it in an earlier post about five things we use every day to eliminate waste in our house. You can read that one here.
There are other ways to go zero waste in your home or on the homestead.
Some of them are pretty next-level, if you feel like you're ready to up your game. Some of them are just plain common sense. I'll outline those in a future post and link it here. Until then, I hope you got some value out of these things we use to reduce waste around our home.