Disclosure: I sometimes earn products or commissions from affiliate links or partnerships on my blog. I only recommend products and services I trust to serve you. Learn more.
There are many off-grid living groups on the internet, and invariably at least once a week I'll see someone post a question like this:
"How can you be off the grid and still be posting on the internet???? That isn't off the grid."
There's often confusion about what off-grid living actually is and what it means to those of us who actually LIVE off the grid. We're going to break down what off-grid living IS, what it is NOT, how our family does it, and how you can get started TODAY no matter where you are.
What IS Living Off The Grid?
The simplest definition is this:
"Living off the grid is a lifestyle without reliance on one or more public utilities, most typically the electrical grid."
Most of us who live "off the grid" typically generate our own electrical power, often with solar power but also sometimes with wind or small-scale hydropower. Our house currently has 1.14 kW of solar power generation and we're seeking to add more later this year.
Off-grid homes are also often self-reliant in terms of water and wastewater management. Our home gets water from rainwater catchment, which we harvest from the roof and store in an underground cistern. We also dispose of our wastewater via a septic tank, which is a very common wastewater treatment option that removes reliance on public sewer systems.
That said, most people who have cisterns and septic tanks probably wouldn't describe themselves as living "off the grid". There are thousands of homes in our immediate area that fit that description and I would wager that none of them describe themselves as living "off the grid". In that respect, there's a pretty strong notion across society that folks who live "off the grid" actually live removed from the "electrical grid" and not just the utility grid writ large.
It follows that there is a spectrum of off-grid living. You could live in a solar-powered house that is still connected to public water, gas, and/or sewage. To speak to this point, sometimes, people will ask me exactly how much off the grid we are in our house. The short answer is "very", but I'll break down those details in a moment.
What Off-Grid Living Is NOT
Living off the grid does NOT necessarily mean erasing your identity and living without a trace of your existence, subsisting off the land. It does NOT have to mean disengaging with society at large, abandoning financial markets, employment, or interactions with traditional commerce. It doesn't have to mean anarcho-primitivism or green anarchism or anything else that totally blows up the system.
Can it mean those things? Sure, if that's the lifestyle you'd like to create for yourself.
For people like us, off-grid living means having a home that is self-sufficient for its power and water needs while living a lifestyle that promotes self-reliance by producing more of our own food and materials in an environmentally conscious way.
For other folks, you can't really be living off the grid unless you get rid of all connections to modern society to be completely self-sufficient in every way by making all of your own food, clothes, and so on. These are the folks who like to ask, "How can you be off the grid if you're on the internet???"
Neither is necessarily wrong. It's mostly a matter of your own personal principles.
How "off the grid" is our family?
Our house is solar-powered, collects rainwater, and uses a septic tank for wastewater management. This means we have ZERO connections to the power grid, water grid, or sewer/municipal water treatment systems.
Beginners Guide to Off-Grid Solar
Beginners Guide to Rainwater Harvesting
All About Off-Grid Wastewater Treatment
In terms of reliance on external services, we DO have a 500-gallon propane tank that we have filled once a year (roughly 300-350 gallons of usage). It fuels our range/stove, fridge, and hot water for washing and for our radiant heating system.
We have weekly trash service for the small amount of trash we do still produce (though we are working to reduce that amount to the point that we need no trash service).
We also have internet via an unlimited LTE hotspot, which allows us to do so much, including make money from home and to access homeschooling resources for our son. Also, we enjoy watching shows on various streaming subscriptions we have at night when work is done. Off-grid doesn't have to mean "no screen time"!
Does our reliance on propane, trash, or internet make us less "off the grid"? Maybe. Maybe not. It depends on your perspective.
From our point of view, using these things affords us options and opportunities.
All About Our Radiant Heat System
How We Get Inexpensive Internet Off the Grid
13 Totally Normal Items We Use to Reduce Household Waste
What Off-Grid Actually Means for How We LIVE
Living off the grid now for just over two years has taught us a lot about how we manage our day-to-day lives.
When we used to live in town, we rarely ever had to think about how much power or water we were using. We just got a bill every month and paid it. No big deal. While we aren't generally wasteful people, we DID have a lot of room to waste power and water just because we could. We didn't have to think about it, and that's the biggest difference.
Living off the grid makes you more mindful of your consumption and footprint on this earth.
We think about how much power we're using when the sun is low in the wintertime and we have to run our gas-powered generator to keep the batteries in our system from getting too low.
We think about how much water we're using when it's the heat of summertime. It's important to make it last between rains so we don't have to go haul water from the nearest fill station.
We think a lot about the amount of plastic packaging we do or don't bring into our home and try to either buy as much as we can with no/low packaging or grow and preserve what we can to make up the difference.
Related: 10 Surprising Lessons We Learned In Our First Year of Living Off The Grid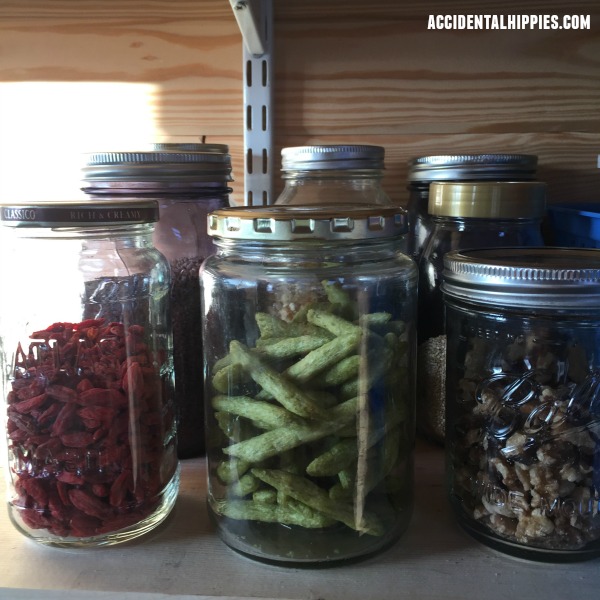 What can YOU do if you want to live off-grid someday?
First, start looking for ways you can be more self-sufficient exactly where you are right now. The great thing about modern homesteading is that you can do it from anywhere! It's a mindset, a habit, a daily practice. It's a way for us to be more connected with the earth we inhabit.
Related: The REAL Meaning of Modern Homesteading
Learn everything you can about living a self-sufficient lifestyle. Work on acquiring new knowledge and skills! Learn how to bake bread, mend clothes, can food, wire circuits, build from scratch, and so on. There are hundreds of great homestead skills you can learn right where you are! The more prepared you are going into an off-grid building project, the better off you'll be.
Related: Our Favorite Books for Homesteaders
Next, think about the type of life you want to live and the kind of homestead that will allow you to live it. You might look at land listings, browse existing home listings, learn about green home systems, or look at home plans that will accommodate the type of life you want to build. Don't rush this step! The amount of thought and preparation you put into this will repay you tenfold when you go to actually create your dream homestead.
Related: The Owner-Builder Home Planner
If your goal is to create a self-sufficient homestead, I invite you to subscribe below to get access to all of the free homesteading guides in our Resource Library! Find out how to buy land, build a homestead, work with code officials, and even learn how we built our own off-grid cordwood house from scratch!
Click here to learn more about our off-grid cordwood home. Also make sure to follow us on Facebook, Instagram, and Pinterest. Thanks for reading!